March 29, 2023
Originally Published in the San Francisco Bay Times By Joanie Juster–
At the recent National LGBTQ Task Force Creating Change conference in San Francisco, the expo hall was filled with nonprofits, community groups, and businesses that support the LGBTQ+ community in ways from healthcare to legal issues to social justice. One organization, in particular, had a mission that was clear and compelling: to empower, educate, and employ the LGBTQ+ community, by removing barriers to opportunities and providing an achievable pathway to economic independence. This group, TransTech Social, is changing lives in powerful and concrete ways. With their fifth annual conference, TransTech Summit, coming up March 31–April 3, the time is right to learn about the important work they are doing.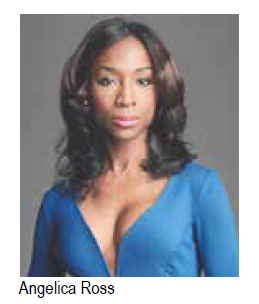 It is no secret that one of the most effective ways to help marginalized communities is through providing economic opportunities. Giving someone a job isn't enough; making sure they have the training, skills, and support to enter the workforce with the confidence and ability to do the job well is key to their long-term success. And that is exactly what TransTech Social is doing. An incubator for LGBTQ+ talent, they are dedicated to providing access to economic empowerment to transgender people, by equipping them with practical, career-ready skills. It is a co-working, co-learning community that helps place its members on a path to independence through learning marketable skills and career-building experiences.
TransTech Social was founded in 2014 by groundbreaking actor, activist, and business leader Angelica Ross. While she is now world-renowned for her performances in Pose, American Horror Story, and more, when she was starting out, she found her career choices as a Black trans woman were limited. She focused on finding a way to create her own opportunities, so she started watching YouTube videos to teach herself coding, graphic design, photo editing, and other tech skills. She found she was good at it, and realized, "I can teach others." And it was clear that her help was needed. When she created TransTech Summit in 2017, Ross announced, "We are no longer asking for equity; we are creating it."
The need for equitable opportunities is urgent. According to the 2015 U.S. Transgender Survey, 27 percent of trans respondents experienced employment discrimination because of their gender identity or expression, and other studies show that trans people are four times more likely to have an income of less than $10,000.Lack of employment opportunities in jobs that pay a living wage leaves trans people more vulnerable to homelessness, violence, poor health, and lower life expectancy. TransTech is determined to break that cycle by providing job training and skills building, and a support system to help people succeed. (Note: The results of the 2022 U.S. Transgender Survey—the first since 2015—will be made available later this year.)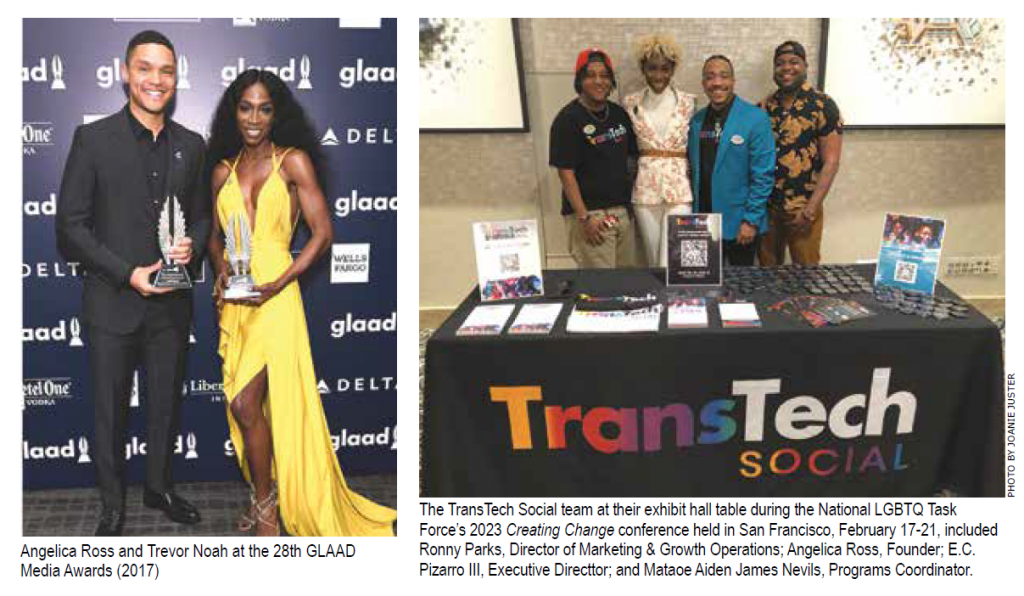 As her skills and confidence grew, Ross was determined to help create a path for other trans people, women, and people of color to improve their opportunities for employment. She founded TransTech Social Enterprises in 2014, which is known as the first trans-led nonprofit job-training organization that trains trans people for employment in the technology industry. The business model uses peer-coaching and mentorship to help participants create and achieve their personal and professional objectives, and prepare for employment in the technology industry.
But providing trans people with the skills and confidence to do the jobs was only the beginning: there was work to do on the employer end as well. Ross consults with major corporations to ensure that trans job applicants will not only have access to employment opportunities, but also find themselves in better and more welcoming work environments.
A membership-based organization, TransTech Social now has over 3,000 members worldwide. Joining is free, but membership not only helps build a sense of belonging and community, it also ensures a measure of online security. Considering the number and intensity of attacks on the trans community, they are hypervigilant against cyberattacks. Co-working and co-learning ensure that members are committed to lifting each other up, an essential component in building and empowering marginalized communities.
With a professional staff of only two, TransTech Social is able to accomplish all that it does thanks to an engaged Community Advisory Board and a legion of volunteers. Executive Director E.C. Pizarro III praised the support they receive from the community, telling me for the San Francisco Bay Times: "We are the space for trans people in tech. We do a lot without a lot of resources. We're able to do that because people care. The heart and soul of our organization is our volunteers. They tap into our potential, tap into our joy."
This year, the TransTech Summit will be all virtual. It lives its values by breaking down barriers to access, providing the summit for free, and paying stipends to presenters. ASL interpretation will be available, as well as captions and translations. There are sessions for entry-level attendees just starting to explore tech, as well as for seasoned professionals. Pizarro emphasized that everyone is welcome, even if you just want to attend to be around the community and see what the summit is all about. He said that there will be content focusing on nontraditional paths in tech, as well as cybersecurity and addressing the issues of violence and trauma.
Each day of the TransTech Summit will have a different focus: "Tech" (Web/App/Design/Coding; Health, Wellness & Technology; Tech in Hollywood); "Social" (Diversity, Representation & Inclusion; Racial Justice/Social Justice/Human Rights); "Enterprise" (Business/Career; Media, Marketing & Advertising). There will also be discussions of the state of TransTech—where it is going as an organization—and a virtual job fair.
As if all that weren't enough, TransTech Summit will also include graduation for over 100 participants in TransTech's first-ever GROW cohort, a Google organization-supported program focused on career-readiness. Ten scholarships for the next GROW cohort will also be announced.
It's an ambitious program, but TransTech has already proved it can create change, and change lives. Learn more about TransTech Social and the TransTech Summit at https://transtechsocial.org/
Joanie Juster is a long-time community volunteer, activist, and ally.
Published on March 23, 2023
Continue Reading